One of the things on our list has been to setup a proper dedicated cellular backup system setup here at the office. This was harder than it seemed due to the fact that T-Mobile here uses the 700 Mhz band for LTE. This is really an odd frequency and 700 Mhz is not supported by any 3rd party hotspot device we could find. T-Mobile offers no USB thumbsticks or devices which supported ethernet, either.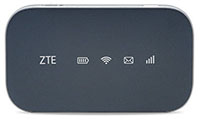 This meant we were limited to their only offering: The ZTE Falcon Z-917 WiFi hotspot. Our initial plan was to use another dedicated WiFi-to-ethernet device to connect to the hotspot and then patch that into our pfSense box via Ethernet.
Much to our surprise the T-Mobile ZTE Falcon Z-917 Hotspot comes up as a USB Ethernet device under pfSense and FreeBSD when it is attached to the system via USB directly!
ugen0.3: <ZTE,Incorporated> at usbus0
cdce0: <CDC Ethernet Control Model ECM> on usbus0
ue0: <USB Ethernet> on cdce0
ue0: Ethernet address: 36:4b:xx:xx:xx:xx

Running DHCPd on the interface gets an address and it JustWorks™. I'm writing this post so others in the same situation know that the Z-971 will work great under FreeBSD and pfSense, spread the word!