Need FreeBSD Support Immediately? Call Us at 877-883-1394
24x7 Support for FreeBSD, its Bhyve Hypervisor, FreeBSD ZFS and Other Open Source Software
We know that FreeBSD isn't "just another Linux distro"
A-Team Systems has been working with FreeBSD for over 20 years and has the experience to provide enterprise level support for it.
We've been a proud sponsor of the FreeBSD Foundation for years and Adam Strohl, our company's President, has been a project contributor since 1996.
Regardless of whether you are an experienced FreeBSD user yourself and are looking for a hand, or someone who has inherited a FreeBSD server, we can help with anything you need.
From PHP to MySQL, Apache to NginX: we are FreeBSD support specialists and to us FreeBSD is not just another bullet item — it's our preferred OS and the foundation we build our solutions on!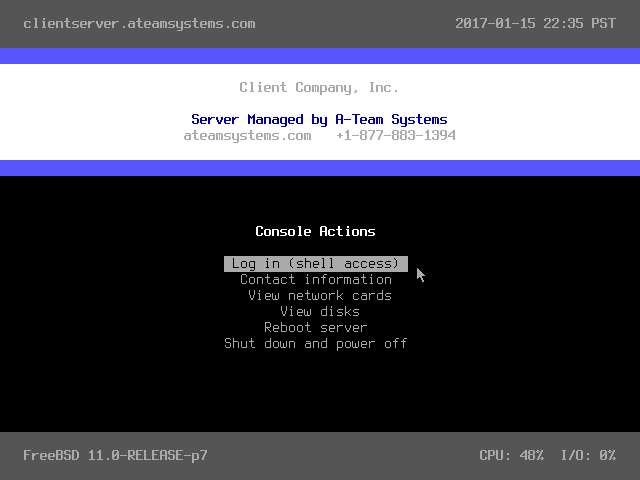 Our console tool gives a user friendly interface to all of our FreeBSD servers so that even untrained staff can safely perform in-person tasks if needed.
A-Team Systems is a Complete FreeBSD Support Solution

FreeBSD Focused
Engineers
We have engineers who have decades of experience with FreeBSD. The foundation of our support solutions are built on FreeBSD.

24x7x365
FreeBSD Support
We know your business doesn't sleep, that's why we don't either! Our FreeBSD server support is available 24x7x365.

Enterprise Grade
FreeBSD Support
We're a completely staffed FreeBSD support provider. You can be reassured you're working with a provider with decades of FreeBSD experience.

U.S. Based
Support Team
Our FreeBSD engineers are based in the United States. This ensures the best customer communication, enhanced security, controls, and regulatory compliance.
Why Outsource Your FreeBSD Support? A-Team Makes the Difference!
You Get Experts
We get IT! A-Team Systems makes it a point to stay on top of FreeBSD technology, and we know that it's not "a Linux distro". We take pride in remaining on the cutting edge our innovative solutions minimize costly mistakes and delays.
We Save You Money
With our fixed-fee support and management services, you save money, offload everyday tasks, and boost your team's productivity.
Hiring and training an IT team may be costly, and temporary workers don't always fit your expectations. This is doubly so for FreeBSD, where true expertise can be difficult to find. Outsourcing FreeBSD support helps you to budget efficiently by converting variable costs into predictable fixed costs that match your needs. You just pay for the services you really use, at the service level you need.
Fast Implementation of New Technology
A-Team Systems has the resources to immediately start new projects and stay abreast of the latest technologies. In-house management of the same project might take weeks or months to find the proper personnel, train them, and offer the support they require. We bring years of experience to the table from the start, which saves you time and money.
Risk Reduction
Every business initiative involves a certain amount of risk. Markets, competition, government regulations, financial conditions, and technology breakthroughs all change rapidly. With special sector experience, A-Team Systems takes and handles most of this risk for you, including unparalleled end-to-end security and compliance concerns.
More Time to Run Your Business
Outsourcing to a third party allows your staff to focus on the core activities of your business, while the experts take care of your FreeBSD servers. IT resources are always at a premium, and each manager's time and attention is restricted. Outsourcing can help your company keep focused on its core competencies rather than being sidetracked by complicated IT decisions and support.
We offer affordable fixed-fee FreeBSD server maintenance and monitoring plans that take the worry out of your infrastructure.
Call us at 877-883-1394 to Get Support for FreeBSD

Answers to Commonly Asked Questions
Thinking about using A-Team Systems for FreeBSD support, but have questions?
Below are some of the commonly asked questions from new customers. If you don't see the answer to your question below you can call us at 877-883-1394,
send us a message
, or
live chat
to get your answer.
Do I need to sign-up for a support plan?
Nope! We do one-off support projects all the time.
How much do you charge per hour?
Our rate is $165 an hour for normal support. Discounted support hour blocks are available as well on our Buy Support Now order page.
Can I get a free support quote for FreeBSD?
Absolutely! You can call us at 877-883-1394, send us a message, or live chat 24 hours a day, 7 days a week, 365 days a year to get a free, no obligation quote.
How much experience do you have with FreeBSD?
All of our FreeBSD engineers are seasoned system administrators. Cumulatively we have over 250 years knowledge.
How do you access my FreeBSD server(s) when providing support?
We can either connect directly via SSH or if needed we can work through a screen-share of your desktop.
Do you have customer reviews that I can see?
We sure do! You can view ours on our ShopperApproved listing. We also have existing customer references that we can provide upon request.
Are your engineers HIPAA certified? Will you sign a BAA?
Yes and yes: Our engineers are HIPAA privacy and HIPAA security trained and certified at least every 2 years and we'll sign a standard BAA.