Have Questions About Bhyve or Need Support Immediately?
Call our bhyve engineers 24/7 at 1-877-883-1394
Professional Bhyve Solutions
Unlock the power of FreeBSD's native hypervisor!
A-Team Systems has been working with FreeBSD for over 20 years, including bhyve since it's debut in FreeBSD 10.
We have hands-on experience with virtualizing almost every supported OS including CentOS, Ubuntu, and even Windows 10. This extends to converting existing VMware ESXi-based hypervisors to FreeBSD bhyve as well.
Regardless of whether you are an experienced FreeBSD user yourself and are looking for a hand with bhyve, or someone who has inherited a FreeBSD server, we can help with anything you need.
Overall we are FreeBSD support specialists and this includes bhyve. To us FreeBSD is not just another bullet item — it's our preferred OS and the foundation we build our solutions on!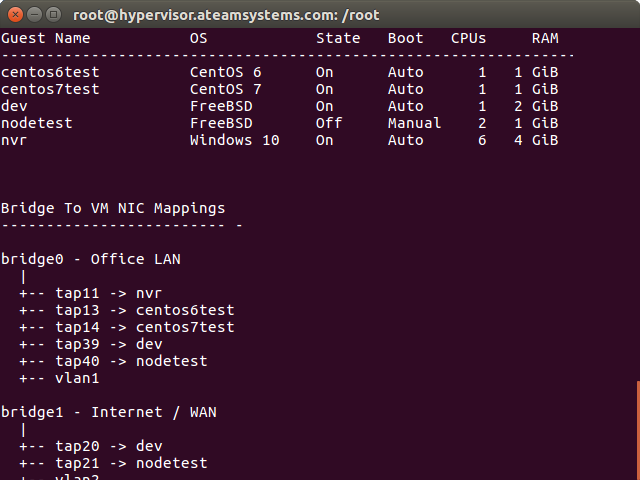 A-Team's tools for managing FreeBSD Bhyve VMs and their virtual networks lets you easily add dev, staging and production virtual servers to your existing FreeBSD environment.
Complete FreeBSD & Bhyve Support

Software
Support
We're here to help with any OS or software problem. Our streamlined update processes keep your servers continuously up to date while minimizing risk.

Intrusion
Detection
We perform constant sweeps of your servers internally and externally to ensure no unauthorized changes or access occur.

Hardware
Support
A-Team is ready to work with your datacenter provider or on-location staff in any situation, routine or emergency.

Proactive
Monitoring
Hardware, software, web and deep application: Our proactive monitoring means the best uptime and availability for you.
We offer affordable fixed-fee maintenance and monitoring plans that take the worry out of your infrastructure.
Take the first step towards complete peace of mind!
DevOps as a Service
A-Team Systems acts like an extension of your organization!
Before DevOps was even a word, we've been helping our clients leverage technology to meet their goals.
We pride ourselves in connecting with our clients to develop systems and work flows that are both secure and easy for developers to work with. Our decades of experience are at your disposal: From best practice advice to helping tune and automate your development and deployment processes, we're here for you.
High Availability & Scaling
Business never stops, neither should your servers.
We design and deploy complex systems, from high availability server clusters to multi-datacenter redundancy and fail-over support. Take a look at our FreeBSD-based A-Team Clustering System for more details on our flagship high availability platform.